YAM Temple speaks about connection, ritual to the self and healing. Our Mala Beads are designed with intention and divinely inspired.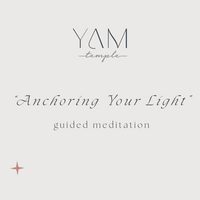 Download our free guided meditation
Enjoy our 'Be Light' Labradorite Mala-inspired guided meditation – 20 minutes dedicated to creating a space for your connection, tapping into your inner light and finding the serenity you yearn for.
Are you prepared for a heartfelt experience that connects you with your most authentic self and lifts your spirit?
Access to the meditation
We believe in a world where each person lives in connection with themselves. Our intention is to bring harmony, sacredness and connection to the human spirit in everything we create.
Your favourite Mala Beads
The perfect gift for your loved ones

Testimonials
They are just beautiful! The smell of the sandlewood got me before I had even opened the bag.
I love the feel, the look and the energy within my mala. I'm so pleased I followed my intuition as they feel just perfect for me.
Thank you 🙏💗

Kristi
I just love my mala beads! I thought they were beautiful on the webpage but they are even more beautiful in person. I look forward to them being part of my daily practice. Thank you 💜

Shani
I ordered the CALM Mala Bead and I couldn't be happier with it! It is so beautiful and I am always so excited to use it for my meditation

Clara
"Oh I adore both of my purchases from YAM! My most recent is the moss agate bracelet, and I have barely taken it off in months. It is such high quality and the energy of it is so potent. I will never buy my malas anywhere else! (Plus, Ley is absolutely divine! She puts so much love into her products!)"

Emma
So thrilled with my Rose Quartz and Moonstone Mala. So beautiful and amazing quality. The care and customer service was next level. Will definitely be buying more. Thank you! 

Kylie
Recibí el mala como regalo y me ha encantado. Me ha emocionado el sentirlo tan cargado de energía. Al ponértelo tienes la sensación de vestirte algo mágico: que te protege, que te equilibra, te pone en tu eje... Precioso. Mil gracias de corazón.

Isabel
Beautiful!! Very happy with the necklace I ordered. It was a gift for my mum and she loves it. Such elegance and amazing quality.

Alex
What I loved about YAM is that they have a story behind them. Their malas are not simply a necklace, they are a beautiful energetic healing tool. I can feel the love and energy of the handcrafted product and I appreciated the care and attention put into my order.

Rose
Ya estan aquí. Un verdadero tesoro. Tocar las piedras es como viajar. Me encantan. Gracias por tu interés. Namasté. Son un tesoro.

Maripaz
We pay respect to the Arakwal People of Bundjalung Country,
as the traditional custodians of this land where we live, love and learn today.